Product
Item List
Description
Avis 5" V3.3.2 (2.5mm bottom plate)
Avis is a bird in latin, aiming at agile, stiff and nice looking all around freestyle frame.
Top mounted battery 5" freestyle frame with interlocking 5 mm thick arms. Slightly squashed X configuration, motor to motor pitch / roll axis distance = 144 / 172 mm; diagonally 224.3 mm.
Arms designed to improve props effciency by reducing prop down flow obstruction, rigidity is validated via FEA and is superior to most 4 mm freestyle frames.
FC / ESC mounting patterns avaliable standard size 30.5 x 30.5 mm and 20 x 20 mm, M3 screw mounting holes.
Rear 20 x 20 mm interface for VTX of ESC for ultra low height build.
Designed for today micro cams saving weight and reducing risk of camera damage via. semi rigid mounting TPU bracket.
Top plate is 2 mm, bottom plate is 2.5mm, arms brace plate is 2 mm and 5 mm arms with chamfered edges.
Changes V3.3.2 (All parts are backward compatible with V3.3.1)
Reduced openings in bottom plate in proximity of stresses regions, improve stiffness and reduce chance of cracking.
Top plate added slot for Gopro Hero 7, refined cut outs.
Added additional 20 x 20 mm interface for VTX / ESC / FC on bottom plate.
Arms enlarged stack screw head hole to 5.85 mm dia.
Frame weight with all hardware - 116-120 gr.
Target build dry weight is 325-335 gr. with AUW at 565-575 gr. (with Session 5 and 1300 mAh 4S lipo)
Suggested build height is at 20 mm. (Other build heights possible using different standoff height)
Kit content: Bottom plate, top plate, arms brace plate, x4 arms and x10 M3 press nuts. (All other hardware isn't included and need to be purchased seperately)
Additional hardware needed for assembly: (click on blue text for direct links)
Assembly Instructions: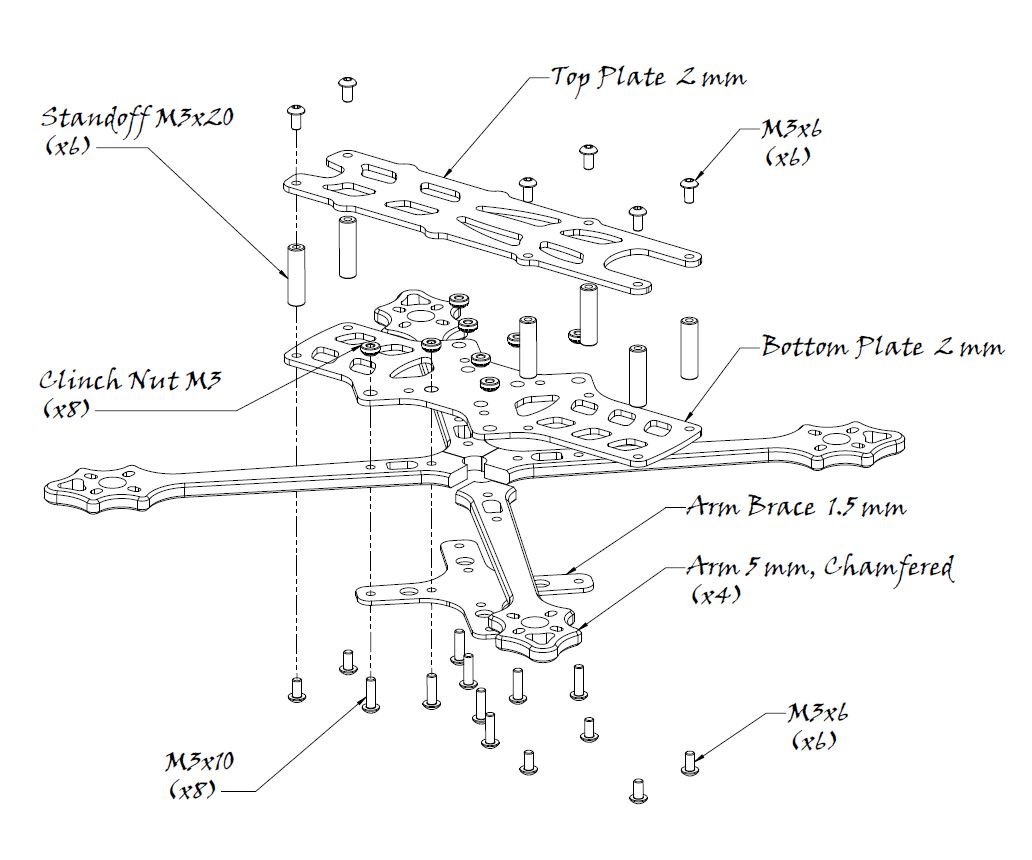 3d Printed parts: (click on blue text for direct links)
1. Gopro Hero 7 mounts, (Thingverse)
Recommended electronics: (click on blue text for direct links)
Review Section ( Total Review:0 )
No Review Found