FAQs
Frequently Asked Questions
About Armattan Productions
Placing an Order
Shipping Information
Existing Orders
Selling my Designs and Managing My Store
About Armattan Productions
Armattan Productions is a new resource for designers and tinkerers alike. We are opening the door to high-end manufacturing infrastructures in a way that has never been done before. We can work with you from giving you pricing on your designs, to allowing you to create your own shop to sell and set your own profit margins. No minimum orders. No prototyping fees. No CNC programming fees. There is no fine print. Don't look for it. Just low-cost, high-end, no holds barred parts production. Best way to find out more is to read our About Us page.
All Armattan Productions products are designed by our community members, some of whom offer freelance design services. You can follow their work by visiting their shops. You may also open your own shop for your very own creations.
Currently, we mostly use CNC facilities to process carbon fibre.
What types of materials are available?
Armattan Productions offer various thicknesses of Carbon Fiber. We can also process Fr4, aka fiberglass or G10, stainless steel, aluminum, and iron. However, these services are not automated on the website. For information on pricing of these materials, please email us at support@armattanproductions.com. Also please note that we do not impose minimum order quantity (MOQ) for carbon fibre. But we do have MOQs for the other materials.
Can you tell me about the kind of carbon fibre you offer?
We offer 3k, twill weave, high-heat pressed black matte carbon fibre. The inner layer is unidirectional fabric. The top and bottom layers are 3K weave, 200g/m². We have tried many different kinds of carbon fibre, different weave, different finish, different production methods and this is the best carbon fibre we've been able to come up with. We use it on all Armattan Quads Lifetime Warrantied models.
You have a choice of thicknesses available. They are, 1, 1.5, 2, 3, 4, 5 and 6mm. Other thicknesses are available only for incognito services.
What is the weight per volume of your carbon fibre?
Our carbon fiber density is 1623.9kg/m3. This can vary based on sheet thickness and type, but not super significantly.
I have an idea. Can you design it for me?
We do not offer design services. But you may want to inquire with some of the designers who already have shops on Armattan Productions. You could also post a request on your favorite Facebook groups, or take a look at Freelancer.com.
How can I contact Armattan Production with additional questions?
Please go to our contact us page for information.
No, we do not make 3D printed parts. There are many options online for 3D printed parts. Two popular ones are www.thingiverse.com and www.shapeways.com.
Placing an Order
Which payment options can I use?
We accept payment from PayPal verified accounts. Check PayPal to see if it is available in your country. We also accept payment from most major credit cards. Note that we will only ship to the shipping address linked to your payment. Under our Incognito Services, we also accept direct bank transfers.
What happens after I place an order?
After you place an order, you should receive an automated email confirmation (please check your spam folder! Then save this email address to your contacts list so that you receive emails from us to your inbox: support@armattanproductions.com) Then, we submit your design to our CNC facility to have it processed. Your order status will change from "Awaiting Fulfillment" to "Processing" at this time. This process usually takes 7-14 business days. Production time varies according to how many orders we currently have. Once your design has been manufactured, we will inspect your items for any issues and then ship them directly to you.
I placed an order here on Armattan Productions. Can you combine it with my order on Armattan Quads?
Armattan Productions and Armattan Quads are sister sites, but they are not linked. Because we can not guarantee that your orders will be seen by the same people who are packing, we can not guarantee they will be shipped together.
Shipping Information
Armattan has no restrictions when it comes to shipping. We ship world-wide. As long as you have a shipping address linked to your payment, we will ship. We do not ship to addresses that are not linked to your PayPal or credit card. So make sure you have the correct address tied with your payment. We will not accept requests to ship to alternate shipping addresses. Please refer to our Terms and Services for more information.
Please visit our Shipping Rates Page for details.
Why is shipping more than Armattan Quads?
Please click here for the answer: http://www.rcgroups.com/forums/showthread.php?t=2519396&page=7#post33507229--
Existing Orders
How can I check the status of my order?
Once you place your order, you will receive an email notification. Lead time on manufacturing custom carbon fiber orders is usually between 7-14 business days. The lead time varies depending on how many orders we currently have. You will then receive another email notification with tracking details once your order is shipped.
How can I change, cancel or add to my order?
Once the CNC computer has been programmed with your design, your order can not be canceled, changed or added to. This process usually happens within 24-48 hours. If you are too late making changes to your design, you will need to re-submit it for manufacturing again. If you want to add to your order, you will need to place a new order.
My order has arrived but there is a problem?
If there are any issues with the quantities of your order, please contact us as soon as possible. If there is a design issue, please contact the designer directly. Armattan Productions is not responsible for design flaws. Designers are advised to use 0.25mm of tolerance for parts that meet, tab or protrude to fit into 3D intrusions. This ensures that parts fit freely, without filing and without interference otherwise.
My order is late. What can I do?
The tracking system for the 5$ shipping worldwide does not always work very well. It may take a while before the tracking status is updated. But the shipping method itself is highly reliable. The tracking number may or may not be traceable through your own country's postal service. For international orders, shipping time usually varies between 7 and 14 business days. This is not always the case, however. Delays do occur, often due to national holidays. If you do not have your order within 20 business days, you may contact us.
Selling my Designs and Managing My Store
Yes! And we encourage you to do so.
First, you need to register on the website. Then you can create your own shop. Once you've done that, you upload your designs. It usually takes 24-48 hours (weekdays) for your designs to be priced and approved or rejected. You will receive an email notification for this. Then you will be able to login to your account and see the Production Cost of your design. From there, you have several options. You can keep your design private and buy it just for yourself. You may also elect to allow others to download your design. Or you can set a profit margin and sell.
How can I get my money when someone buys my design?
Your account will be credited based on the profit margin you set. To get your money, you need a verified PayPal account. After you submit a withdrawal request in your account, your request will take approximately 24-48 hours to be processed during weekdays. You will then receive a PayPal notification that you've received a "Commissions Payment" for your designs sold through Armattan Productions.
This is a very common question and it has been answered here: http://www.rcgroups.com/forums/showthread.php?t=2459197&page=3#post32896205
I want my designs to be private. Is that possible?
Yes, you can keep your designs private. Once you've uploaded a design and it's been approved, you will have the option to make your design open source or to keep it private.
What should I do if I suspect copyright infringment?
In case you find content on the Armattan Productions website which you think is inappropriate, might infringe intellectual property right or does not comply to our content policy, please notify us.
Armattan Productions charges 3.5 percent processing fees on ALL orders.
What do I need to do when someone buys my design?
Nothing! We take care of everything from processing your order, shipping your order and processing payment. We do all the nitty gritty stuff so you don't have to.
Once I submit a design, how long will it take to get a quote?
We will input your production cost usually within 48 hours after you submit your design. During weekends and holidays, you can expect a longer delay. Our CNC team takes time away from cutting in order to calculate the price of each design. This is done manually. Although necessary, it is time consuming, so please be patient. Please be mindful of the designs you upload. Check them over before you hit the submit button as we will not be responsible for file or design errors.
What is the preferred image size for best fit on the site?
If you are getting stretched images in certain browsers, this usually occurs when your file is too big. Keep your image sizes no more than 600 pixels in height and 600 pixels in width.
I have a design idea. Can you give me some advice?
If you have a question regarding tooling or tolerance, let us know.
What kind of tolerance should I use?
If you are cutting tabs for CF parts to fit into other CF parts, we recommend you use 0.2- 0.25mm tolerance. For everything else, we recommend you use a 0 tolerance. Note that the minimum radius is 1.0 mm
What kind of files can I upload?
Please use files with the following extension .dxf, .dwg, .step, .igs and .stp
Please ensure that each design is its own file. For example, one arm is one file, one center plate is one file, one top plate is one file. Do not put multiple designs in one file, even if they are the same. Also, please upload 3D files only if your designs require 3D cuts. Otherwise, just use 2D design files. Ensure you upload the correct file. Parts are cut exactly like the CAD files. We will not be responsible for design or designer errors.
Can I upload the same design twice?
Yes, sometimes it is necessary. For example, if you have a design that you're not sure what thickness you would like, you can upload it twice and select different thicknesses for each. We highly recommend that you add the thickness in the name of all your files. For example: CF_topplate_1.5mm
Are my designs lifetime warrantied?
The items on Armattan Productions are not lifetime warrantied. They are all designs submitted by different designers. We can not lifetime warranty frames that have not been designed with the strength in mind of that of Armattan Quads.
I uploaded a design but I made an error/ changes and I'd like to remove the file. How can I delete it?
Once you've uploaded a design, you can not delete it until it is approved. If you don't want it to go through the approval process, you can simply edit the name of your design to "DELETE" and we'll delete it for you. That said, please be mindful of the designs you upload. Check them over for errors before you hit the submit button.
How many designs can I upload for pricing?
Our CNC team takes time away from cutting in order to calculate the price of each design. This is done manually. Although necessary, it is time consuming. Please be mindful of the designs you upload. Check them over for errors before you hit the submit button.
Because of the time it takes to calculate prices, we ask that you limit your design uploads to 10 per week.
We accept 3D designs, however there may be an MOQ imposed. *Please note that chamfered parts must be minimum 3mm thick. Also note that the minimum radius is 1.0 mm
How can I make a special request for tooling?
If you have a special request for tooling, you will need to leave instructions in the design name. For something like stepped holes or chamfered edges, you need to submit 3D files (dwg, stp, step, igs files). For chamfers, please edit your design name to include the word "chamfered".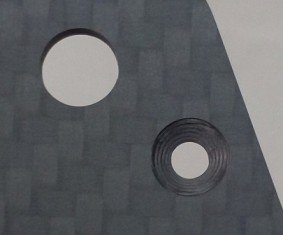 If you want your design cut at a 45 degree rotation, then adjust your file accordingly (rotate it) and edit your design name and file name to include "along the weave". See pictures below.
Do NOT leave instructions in the "Description" of your file or in the notes when you order. It will not be seen by the CNC team.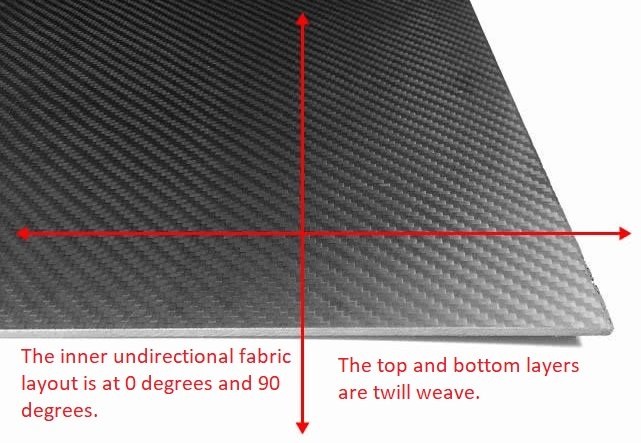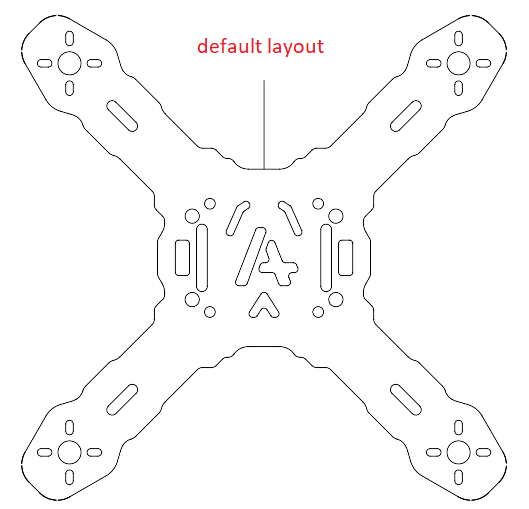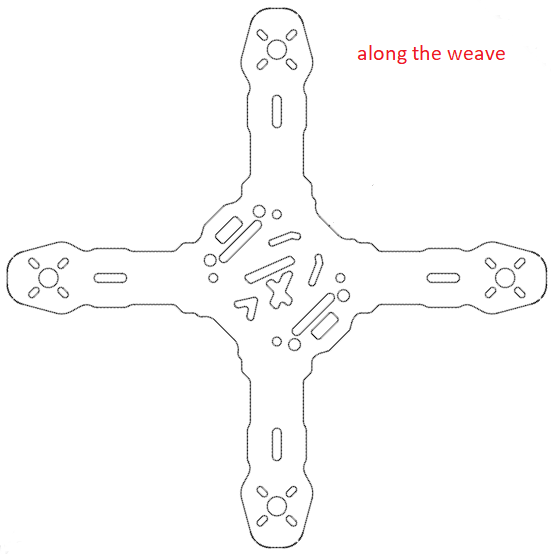 Why can't I add a kit or product to my store?
You can't add a kit or products to a 'Parent Category,' so first check to see if all your categories are "Parent Categories". You need to create a 'sub category' under a 'parent category' and add kit to that.
Example:
Parent Category
Sub Category

Then add kit or product to "Sub Category".
At what scale do you cut the designs?
Designs are cut at a scale of 1:1. Make sure your designs are the correct dimensions. You can leave a note with dimensions in the CAD file.
Can you recommend a CAD software for beginners?
Fusion360 (https://www.autodesk.com/products/fusion-360/overview) has been recommended for beginners.