Product

Welcome to the KAIDJU LINE, a range of light and compact racer from 40mm to 4" props, light is right.
Contact: KAIDJU OWNER CLUB (private group on Facebook).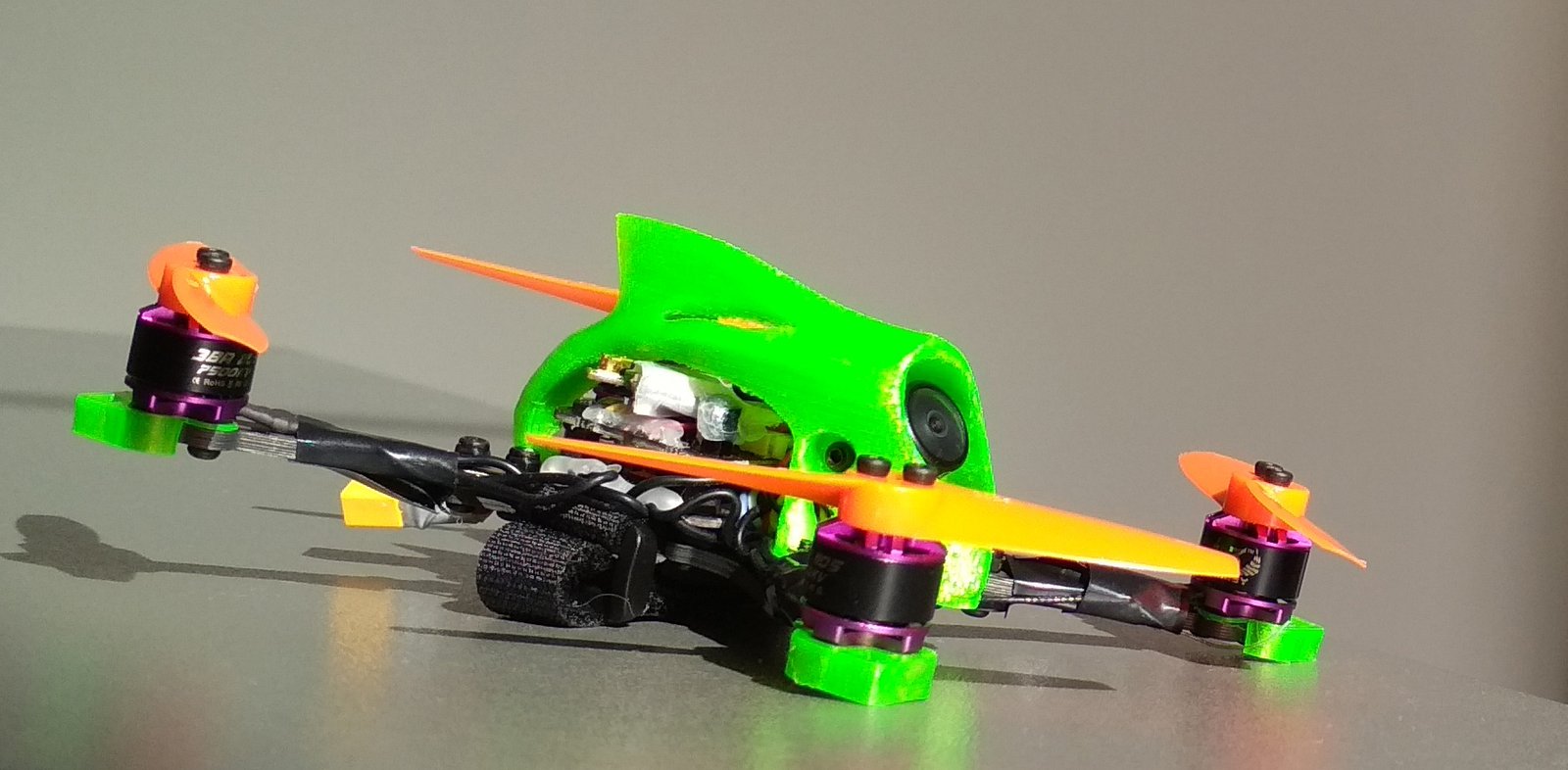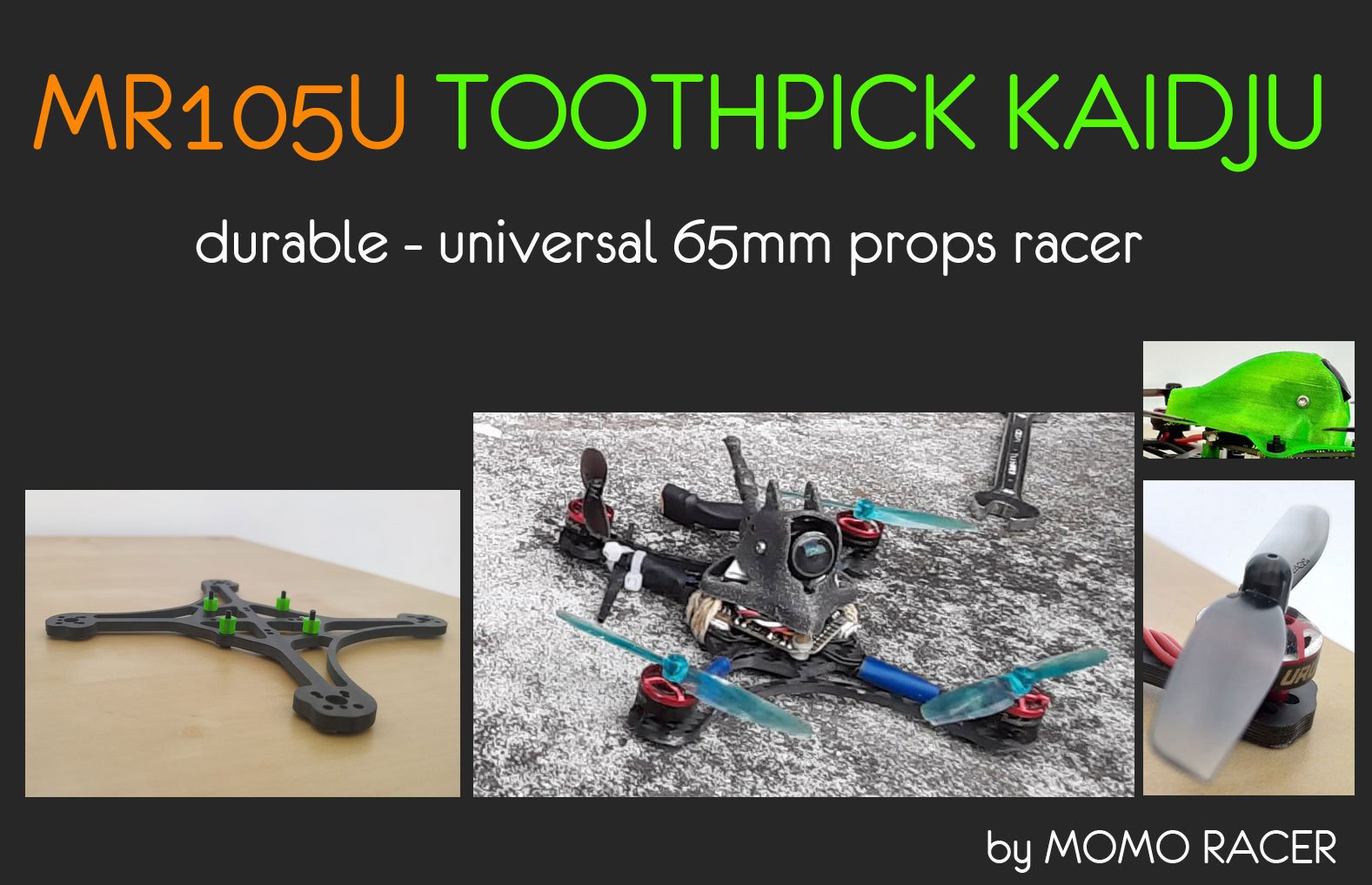 MR105U TOOTHPICK KAIDJU - LARVA X - SAILFLY X - GNARLY FPV PRIMO - TWIG SWAPPER
---
---
---
---
---
Item List
Description
**Concept**
Bored to have to choose between 3, or 4 holes motors like the GNARLY FPV PRIMO?
Bored to break the bottom plate with your HAPPYMODEL LARVA X?
Here the lastest evo of the MR105U KAIDJU
The MR105U is the Toothpicks version of the KAIDJU Line, compatible with most of the motors for this category, 3, 4 holes, don't worry, the tootphicks KAIDU is ready for them!
The new bottom design, inspired from the Twig is very durable.
This new version has the older MR105 versions advantages, very convenient, you can use 16, 20, aio fc, with plug on the top, or the bottom, no problem too.
The price, only 10 dollars, with world wide shipping (5 dollars for 4 frames) is very low, but quality and conception are very high!
The MR105U is the one of the most vertsatile and durable micro racers with 65mm props on the market.
If you need to go quicker, go directly to the MR116 KAIDJU version, with 3" props, but your garden won't be big enough for sure , and you will compete outdoor with 5" heavy racers
**V3 improvments**
better air flow
better rigidity
reduce jello
reduce propwash
strech design in a pur x
multi fc compatible '16, 20, aio with plugs)
multi motors compatible: from 1102 3 holes to 1108 4 holes
**kit detail**
carbon parts
10$
1 x NANO KAIDJU MR105U 2.5mm plate: 7.68g (included)
https://armattanproductions.com/pages/kit_detail/2213
fc screws
4 x 10mm m2 screws: 0.96g (0.24g each)
tpu parts
free to download
https://www.thingiverse.com/thing:32471604
4 x 4mm tpu mount: 0.25g (0.06g each)
1 x NANO KAIDJU CANOPY High profile version 2.82g
you can use most of whoop canopy
total: 11.71g
**Word wide shipping**
17 days world wide shipping
freight cost: 5$ for 39$ orders, so you can order several frames of the KAIDJU collection to optimize your order (MR80U, MR105U, MR116, MR116U...)
**KAIDJU LINE**
If you want to see the others KAIDJU models, from 40mm propos to 5", follow the link below:
https://armattanproductions.com/pages/search_item?keyword=KAIDJU
**Facebook private group**
Join the "kaidju owner group" on facebook to share your Kaidju experience with the community
**MR105U Videos** (older design version, but performances were ever here)
TRASHCAN SWAP 1/2
https://youtu.be/DB7HB26nJ_8
TRASHCAN SWAP 2/2
https://www.youtube.com/watch?v=EDXHyFXBnKg
SALFLY-X SWAP
https://www.youtube.com/watch?v=VTt_rqqqxHA
Morgan ALASLUQUETAS
Hafiz R., you can use 1.4mm screws with your 'older' version, you can use too, 1.6mm screws for 1102 motors, it works perfectly you must know too that there is a update with new screws holes design, less space than before, but we save compatibility with 0802-1102 3 holes, and 1103 4 holes motors! don't hesitate to join the KAIDJU OWER CLUB (private group on facebook) for more informations, tips, builds infos, KAIDJU community :)
---