Product Hey, I design for fun but my designs tend to be popular so I thought I would put them on here, enjoy!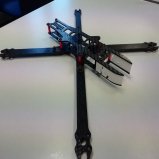 Item List
Description
For those who just want that extra thiccness
build the bottom plate before mounting the arms, otherwise you wont be able to fit the screws.
mount to the top plate or the bottom, it works either way!
the brace plate can be rotated for toilet tank for that extra versatility.
Additional Information
2x 30x30 mounts
1x 20x20 mount
with long vtx and receiver mounting in the back
contact me for the 3d prints!
Review Section ( Total Review:0 )
No Review Found