Product
Item List
Description
Frog is a beautiful 122mm brushless racing quadcopter frame designed to be used 3 inch propellers. Frog frame features integrated motor protections in the form of frog fingers. It supports a wide variety of equipment and great mounting options. It is also available in Flex RC Hobby Store
FEATURES
Integrated motor protection
Ability to use wide variety of motors like 1105, 1306, 1407
Ability to use virtually any micro VTX
Ability to mount battery on top or bottom
Many mounting holes which help to keep all wires together for the clean and beautiful build
Mounting holes for popular flight controllers like Naze32, CC3D and other boards that use 30.5mm distance between holes
12mm x 12mm camera mounting holes pattern, for camera holders like Diatone
WHY DO YOU NEED IT?
Great looking frame
Very compact design
Ability to easily use wide range of equipment
Great protection for your motors
Optimal strength and performance
WHY FROG HAS BEEN CREATED?
Through out my building experience I always felt like I was forced to use same kind of VTX, because nothing other than particular one was able to fit nicely. But, it was a pain to fit even the one which worked for it, I had to juggle around, so it won't push on standoffs and I had to try hard to make everything nicely aligned. VTX antenna was not holding in place well and there were no means to mount it well. Then if you want your motors to be well protected you will have to 3d print a bunch of extra parts. Did you ever want to use narrow FC on your macro which was not specifically designed for it? Well, It is kind of a pain. How about power cable which is not reinforced by anything and in theory can be ripped off? I was forced to either use narrow PDB or to use spacers so PDB won't cover battery strap holes which made quadcopter unnecessarily tall. I had to look for custom 3d printed parts to mount FPV camera or to use hot glue, which I did in most cases, because it is just so much easier, especially when you don't have 3D printer handy.
Long story short, I've figured out that I need to find a solution, something that will be flexible, strong and at the same time beautiful.
I've got an inspiration and came up with the concept of flying frog, which I really liked and solves all the pain I had by actually being smaller than some other frames.
SPECIFICATIONS
3mm 3K carbon fiber motors holding plate (other thicknesses available on my main site)
1.5mm 3K carbon fiber top plate
118mm motor to motor distance
Weight of two plates: 22g
DESIGN CONSIDERATIONS
Frog Frame consists of two plates with the optimal pattern of mounting holes to allow flexibility of the choice of how you want to mount your equipment. Battery strap mounting holes don't stand in the way of PDB which allows you to use PDB without any spacers and keep profile of the frame as low as possible. It supports any motors from 1105 to 1407. Bottom plate allows you to use Diatone camera mount with 12x12mm M2 holes pattern. It supports Flight Controller of the standard size as well as narrow FC. It has very good looking motor protection in the form of frog fingers.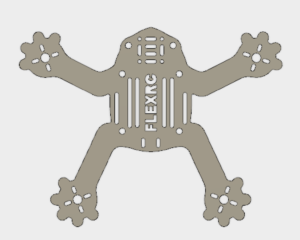 Top plate allows you to adjust camera angle, you can use different kind of straps to mount GoPro, Mobius or RunCam camera. You can mount battery on top as well. It allows you to screw FPV antenna or hold it with zip ties. It has VTX cut which would work for virtually any FPV transmitter.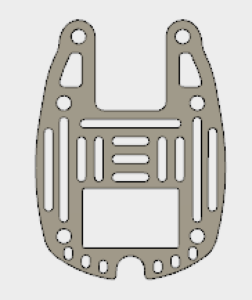 RECOMMENDED PARTS #1
RCX 1105 4000kv motors
LittleBee 20a ESCs
Genuine RotorX RX3020 props
Flight controller of your choice
450mah to 610mah 3S battery with 65C discharge rating or 4S battery
RECOMMENDED PARTS #2
DYS 1306 4000kv
LittleBee 20a ESCs
Genuine RotorX RX3040T props
Flight controller of your choice
450mah to 610mah 3S battery with 65C discharge rating or 4S battery
VIDEOS
Review Section ( Total Review:0 )
No Review Found