Product
Item List
Description
The kit consists of a motor plate and a matching support plate for the left side of the car. Both parts are made of 3mm carbon fiber. The kit allows the motor to be installed almost 5mm lower than the stock motor plate.
Additional hardware needed
The motor plate is installed using countersunk m3x45mm screws and m3 nuts. The original screws supplied with the Tamiya kit are not long enough.
Very short countersunk screws are needed to attach the plastic bumper to the chassis plate. m3x5mm should work.
Installation
The parts come with holes drilled but not countersunk. The holes in the motor plate for the m3x45mm screws have to be countersunk. This can be done with a 7mm drill bit. Make sure that the screw head is deep enough. If it sticks out at all it will touch the spur gear assembly.
The support plate has drilled cable holes. These should be large enough for 16awg cables but the 14awg cables used in the picture needed the holes expanded slightly with a drill.
The front suspension mount needs to be filed down slightly to make room for the motor. (see picture below)
You can get away with filing the suspension mount slightly less than I did. In the picture the motor is actually touching the gearbox but not the suspension mount.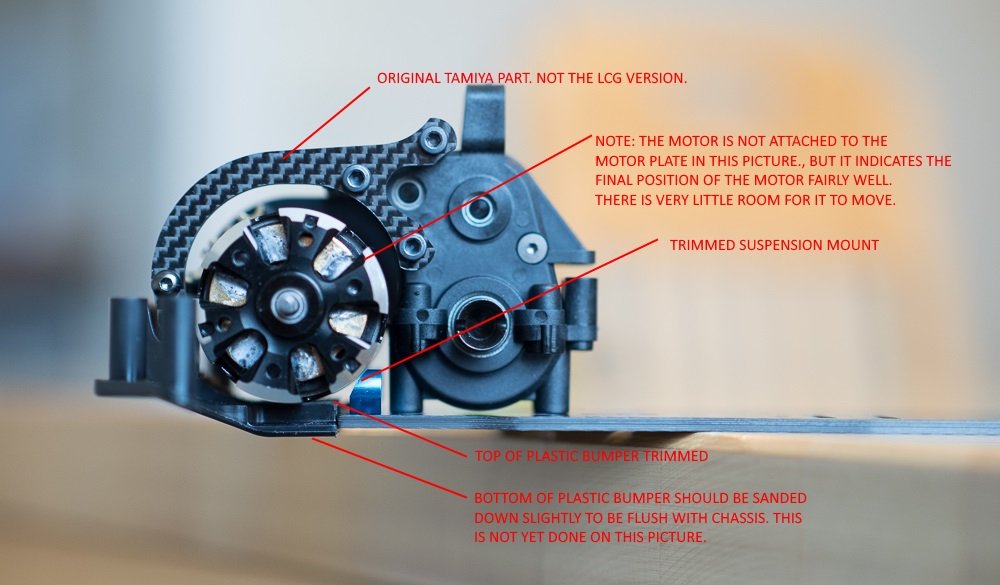 The plastic bumper needs to be modified to make room for the motor.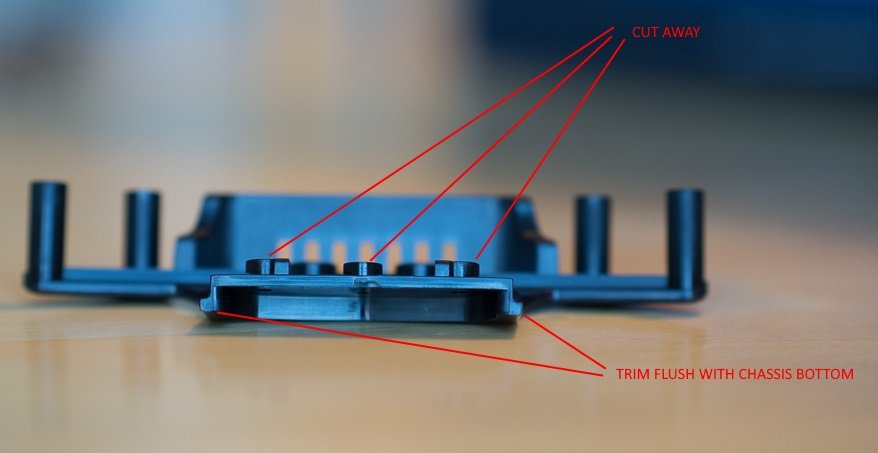 Gearing
There is very little room for the motor to move so you may need to experiment a bit to find a suitable pinion/spur combination. I use a 59t pinion and a 100t spur (64p) for a FDR of 4.4. The distance between the motor axle and spur axle is directly proportional to the total number of theeth on the gears. My gearing has 100+59=159t (64p). I think I could use a couple of teeth bigger or smaller pinions with the 100t spur, but for any bigger gear change the spur gear needs to be replaced too. Anything close to spur+pinion=159t should work.
Additional Information
Additional information
Use and install at your own risk. Consider this more of a prototype than a final product. The .dxf files for the individual parts are downloadable and free for anyone to edit to suit their own needs. If you make impovements to design, please share your project in the FF-04 thread on the R/C Tech forum.
Review Section ( Total Review:0 )
No Review Found