Product
Item List
Description
Main design elements:
Sandwich bottom plate design
2,5mm lower Bottom Plate, 2mm opper Bottomplate, 6mm Arms, 2mm Topplate for robustness
22mm standoff length gives you a slamdeck design with centralised center of gavity, but still enough space to mount your electronics.
135g weight
optimised for low vibration resonance
Rounded corners to reduce notch effect
Stack mounting: 30,5mm M3 and and 20mm M3 with Pressnuts fits various Flight Stacks
VTX mounting: 20mm M2, 25,5mm M2 and 30,5mm M3 back, fits Vista, DJI Airunit, DJI O3, Walksnail, HDzero or various analog VTX.
Camera sideplate using pritable inserts to fit 19mm or 20mm wide cameras and different length. Inserts are available to fit Caddx Nebula Pro, Polar, O3 or classic DJI camera. Can be easily adopted for every other camera and provides vibration isolation when printed in TPU. Camera cage und vertical front brace provide good camera protection in case of frontal crash.
Openings for XT60 connectors in top plate so that power cable can not get damaged by propellers
Openings for cable ties in Bottomplate and Topplate to mount capacitors, beepers, receivers or GPS and as strain relief for power cable.
Puzzle piece in lower bottom plate holds arms in place while changing bottom plate in case of damage.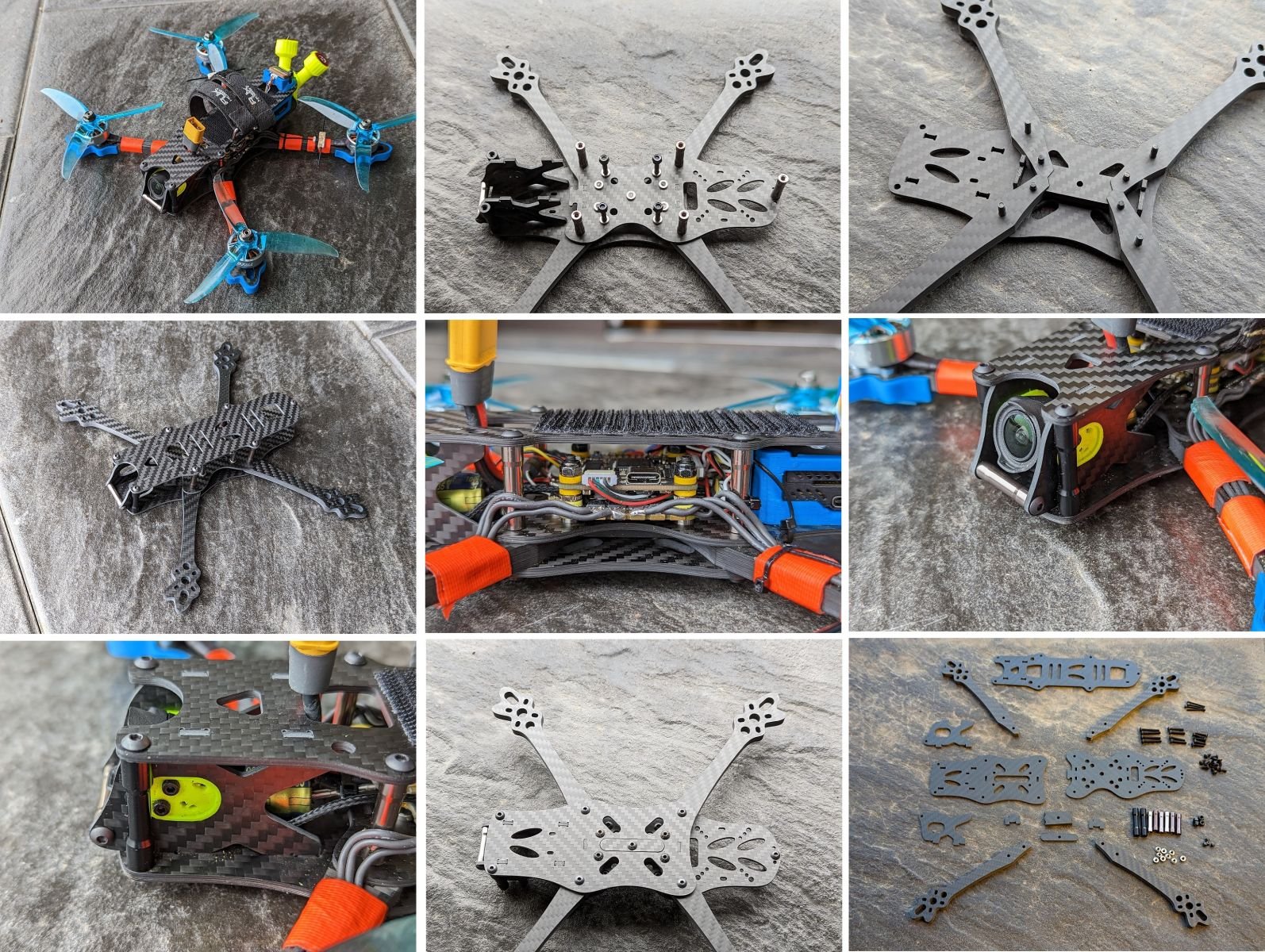 Additional Information
Armattan Productions does not offer 3D-printed parts. But you can print them by yourself:
19mm camera insert: https://www.thingiverse.com/thing:5896691
20mm camera insert: https://www.thingiverse.com/thing:5840450
Skid & arm protector: https://www.thingiverse.com/thing:5912291
single antenna mount: https://www.thingiverse.com/thing:5896699
dual antenna mount: https://www.thingiverse.com/thing:5840390
O3 Airunit mount: https://www.thingiverse.com/thing:5840431
DJI classic Airunit mount: https://www.thingiverse.com/thing:5840401
GPS mount (BN-180): https://www.thingiverse.com/thing:5912283
Review Section ( Total Review:0 )
No Review Found