Product
Item List
Description
KRD HD3 155 Kit (155 True X / 3mm )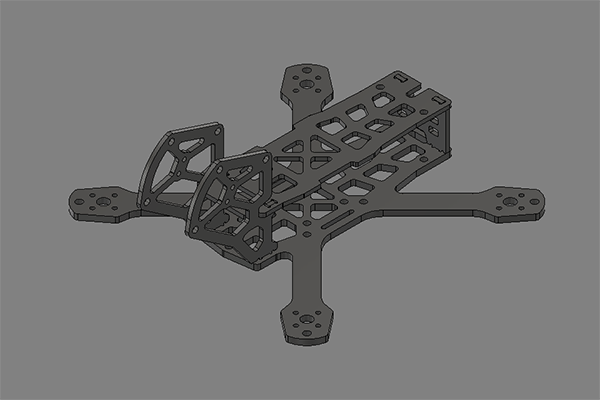 Maiden flight or early version:

Design features:
Higher, extended camera position avoids props in view of HD footage.
Camera mount plates provide protection around the lens, compatible with BOTH standard and GoPro style lens.
Designed for 3" props powered by 13xx/14xx motors.
155mm Motor to Motor True X design
Wide arms version for Single ESCs
Designed for top mounted battery configuration, while you can still bottom mount if you insist...
Additional Information
Get 3D Printed Parts HERE
1.0H Camera Plates:
Fixed 30 degree camera tilt, use only middle screws for adjustable tilt
Extra 24mm standoff can be used for better protection (included)
1.0F Main Plate Update:
Slightly wider arms for better strength and easier ESC placement (11mm)
Slightly beefier arm-body joining geometry for better strength
Slighty smaller motor mounting area for weight recudtion
Balance of strength and weight between two 1.0E models
Kit includes:
CAMERA PLATE x2 ( 1.0H Fixed 30deg )
MAIN PLATE ( 155MM TRUE X 3MM )
REAR PLATE ( BRAVO 2MM )
TOP PLATE ( PLAIN 2MM )
Hardware Kit
NOTE: 2(4) pcs of washers/spacers/O-rings (1mm thick, M2 thru hole) required for mounitng camera, soft material is recommended for vibration dampening purpose.
Recommended Components:
FPV Camera: Runcam Split (Obviously!)
FPV VTX: Any small VTX with SMA extension
Flight Controller: Any 30.5x30.5 FC with built in PDB / AIO FC
Power Distribution: N/A
Motors: 1407 sized, 3100kv+
ESCs: Single ESCs with small footprint (EMAX Bullet / HGLRC BS28A / etc.) / Built-in ESCs on FC
Review Section ( Total Review:0 )
No Review Found